The White Room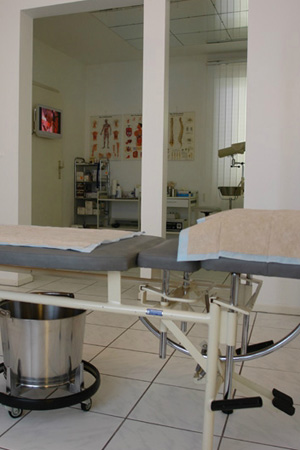 Dr. Kim Sanders' surgery is very similar to an original hospital or emergency room. Bright lighting, white furniture containing a bondage bench and surgery chair, several hoses and tubes and an oxygen device are just some of the provided utilities.
Due to her experience Dr. Kim Sanders is very creative when it comes to choose the perfect "made to measure" therapy for you. Various tools and instruments will be used to achieve your recovery. Her mission statement is "feel good". Be aware; Dr. Kim Sanders is driven by a strong sadistic attitude. She keeps a special focus on a detailed and profound examination in order to decide on the most effective treatment.
Beside from the standard procedures, long time examination is also possible. Urology (catheter, urethra widening and vibration), stomach tubes, fisting, enema, profound pain treatment, needles, suturation, shaving, plugs, forced ejaculation and ass play are just some of the many possibilities. In order to solve erection problems I will use the techniques that I regard to be appropriate.
Beside from medical treatments, body modifications, such as piercings and tattoos, are also an element of Dr. Kim Sanders daily routine. To those, who are looking for an extreme experience we recommend our intensive care unit. You will be well looked after!
---