The Dark Room of Kim Sanders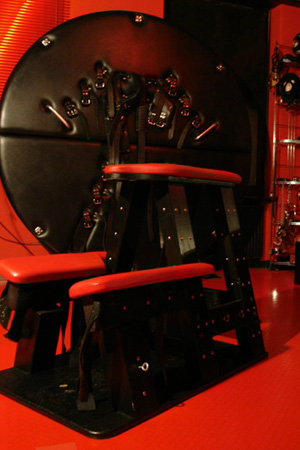 A waft of mist, the flare of candles and music that increases the thrilling feeling that is begins to flow your mind. Welcome to the hellish Garden of Eden, welcome to the dungeon of Mistress Kim. Every Detail of my dark room is a mirror of the ambition, passion and dedication to excellence that I feel for what I do. Based on my experience and ability I have created an area that will provide the perfect punishment for my slaves so that I make sure that you receive what you deserve.
After you have assimilated to my dark kingdom you are allowed to salute to your strict, lordly and demanding mistress. According to my preferences several whips (also including some extreme ones) will be as well introduced as ball stretcher, clamps, ropes, chains, gags, masks, bondage body bags, bench St. Andrews Cross and many other instruments – they will be my pleasure and your torture. It will be up to me to decide whether I will give pain or delight.
One of my perfidious tools is for example a chair that contains a well prepared seating. Another option of torture is to test your flexibility by using my snatch pulley. To make this an even more thrilling experience I will use weights that can be attached to your genitals. And of course the new bull whip will have its impact.
---