Kim Sanders – natural born dominatrix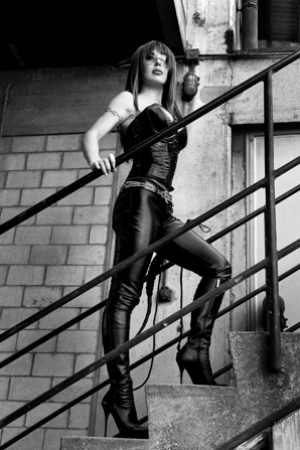 Quite often I am asked whether I prefer domination or sadism. My answer; the combination of both elements.

I always loved to be in control and to enjoy the feeling of power. Ambition and a sense of justice and obedience have been my main principles ever since. I am used to achieve the things I am aiming at.

This issue has not changed until today – but of course my expectations have become more specific and demanding. Celebrating these preferences in my private life is fun, but to me this is not enough. I want more. Much more. I enjoy underlining my female appearance in order to cause helplessness and to use the power of my attraction. It is an unlimited playground to me if I get the chance to let my desires run free. So give this pleasure to me and let take control over your mind and senses. You may be deeply grateful to receive the things I give to you. If they please you it is nice, if they please me it is perfect.

Leather, Rubber and fetish wardrobe are turning me on but I also love high heels and nylon stockings!
News
Announcement video
In a few weeks follows my last - certainly best - Movie. Unless this becomes history
Stagnation means regression
True to this motto I will continue my education. Therefore, from time to time, I will some days be unreachable over the next 8 months. I ask for understanding.
---