Kim Sanders – natural born dominatrix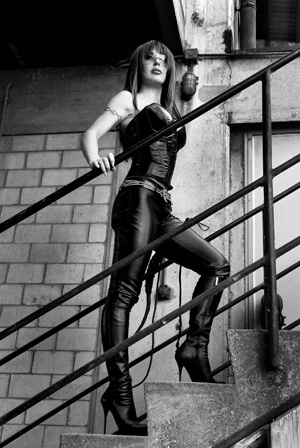 From now on I cultivate my real passion for white dreams. I have created a clinical realm for myself in new premises and I am looking forward to welcoming those who love these fantasies from July 2021.
An unexpected ending often offers opportunities. For me, the forced termination of my work at the familiar location was certainly an unpleasant and unprovoked surprise. Today I have to realize that I involuntarily had time to think about the goals I had set, to check what possibilities my deeply rooted passion for sadism could still offer.
Over many years I have gained experience in the black area and optimized my skills in border areas. I realized early on that I was offering almost the same services in the studio as others. That didn't satisfy me with my striving to be better than average. On the contrary. This will not change if I receive a maximum of two guests a day in smaller, but optimally equipped rooms.
In the search for increasingly perfidious methods of causing pain over long periods of time, I was repeatedly asked about clinical treatments. I found increasing pleasure in this type of torture. Black faded into the background. Supported by handling that I was able to experience and train in the practical operation of various hospitals and practices, I am able to realize unique situations in this area that go far beyond the usual.
The main focus was on recognizing symptoms and treating them with special methods. The associated measures, even over a longer period of time, had and still have the goal of opening up the entry into a dream world that has never been experienced before by using means that are adapted to the situation.
When I recognize that the curious slave, helplessly fixated in chemical bondage, signals fear, loses control of himself and leaves himself to me, when I see from the gleam of his eyes that it takes more pain to prepare his senses for unimaginable dimensions , I'm almost there. But I also want more. Without consideration, I demand everything. I will realize many of the visions of my hospital fantasies in the new location. Merciless. I take care without sparing. That's the future.
These types of encounters require leisure, serenity and time. Much time. I have noticed this again and again with my regular guests, from whom I demand a lot. That is why I will use my presence more sparingly. I like to invest this time, because nothing is more important to me than being able to release satisfied guests from my care, who ultimately like to come back.
I therefore ask for your understanding that appointments currently have to be made three to four weeks in advance, as there is only rarely an unforeseen gap.
I would be very happy to see you again soon, despite these necessary changes.
Welcome to my private clinic lounge.
---