Kim Sanders – natural born dominatrix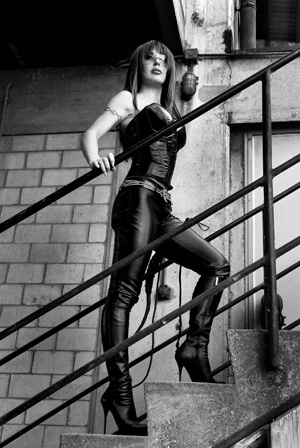 I'm always asked if I'm currently working or at least playing....

No! I do not work during the pandemic!

However, contacts are still maintained!
Quite often I am asked whether I prefer domination or sadism. My answer; the combination of both elements.

I always loved to be in control and to enjoy the feeling of power. Ambition and a sense of justice and obedience have been my main principles ever since. I am used to achieve the things I am aiming at.

This issue has not changed until today – but of course my expectations have become more specific and demanding. Celebrating these preferences in my private life is fun, but to me this is not enough. I want more. Much more. I enjoy underlining my female appearance in order to cause helplessness and to use the power of my attraction. It is an unlimited playground to me if I get the chance to let my desires run free. So give this pleasure to me and let take control over your mind and senses. You may be deeply grateful to receive the things I give to you. If they please you it is nice, if they please me it is perfect.

Leather, Rubber and fetish wardrobe are turning me on but I also love high heels and nylon stockings!
Stagnation means regression
True to this personally chosen motto, I have been able to gather experience for my dominant passion for many years, both in the black area and in the White Room. Encounters in the clinic to the realization of my visions were increasingly the focus.
Extensive practical training in the medical field played an important role. It was mainly the recognition of symtoms and their treatment with special methods.
The related measures, even over a longer period of time, have had the goal of opening the door to a never-before-seen dream world by using golden stuff, which is adapted to the situation.
I will not send anyone to hell, but I know what I have to do as a dominant accompaniment. But that does not mean that the game that started in the clinic is deepened in the black area, as I show it in my film "Heaven & Hell".
These types of encounters need compusure, serenity and time. Much time. I have always noticed this with regular guests, whom I have been demanding a lot from. That is why I will now have to use my present tense more sparingly. Interested gourmets, who would like to experience a long journey from heaven to the gateway to hell, are of course welcome.
News
Vacation
From February 15th, 2021 I will be on vacation for about 2 to 3 weeks
Himmel & Hölle (Heaven & Hell) - The Movie - Now online. Join it on "Movies"
---